PAGE BURNER READING SERIES | 1:00 PM - 4:00 PM
1:00 PM
TANDEM
742 Congress ST
AFRiCAN Dundada
Vivian Ewing
Niles Baldwin
Caitlin Corrigan
Samuel James
2:00 PM
ONE LONGFELLOW
181 State St
Nat Baldwin
Katy Mongeau
Robert Lopez
Debra Spark
Peter Markus
3:00 PM
LOCAL SPROUTS
649 CONGRESS ST
Henry Finch
Emily Jane Young
LaLa Drew
Mira Ptacin
Shay Stewart-Bouley
PORTLAND RECORD FAIR | 11:00AM - 4:00PM | MAINE BALLROOM DANCE | 614 CONGRESS STREET
FREE | ALL AGES
20+ vinyl dealers from all over the northeast. Guest DJs. A literal ton of records.
11:00 AM Disco Phantom
12:15 PM No Wolfpack
1:30 PM Precious Style
2:45 PM Ash & Herb
SYNTH PETTING ZOO | 1:00 PM - 2:00 PM + 3:15 PM - 4:00 PM | PORTLAND MUSEUM OF ART | 7 CONGRESS SQUARE
Before and after the screening of A Life in Waves, come explore vintage and contemporary synthesizers with the Weirder than Stranger Things Synth Club.
FILM: A LIFE IN WAVES | 2:00 PM - 3:15 PM | PORTLAND MUSEUM OF ART | 7 CONGRESS SQUARE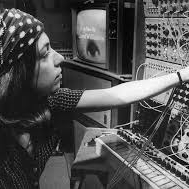 A Life in Waves is a brand new documentary that explores the life and innovations of composer and electronic music pioneer, Suzanne Ciani. From her earliest days learning the piano, to her multi-million dollar advertising ventures, to her successes in the world of New Age music, to her recent re-connection with her beloved Buchla synthesizer, the film is a journey into Suzanne's mind, offering a feminine glimpse into the often complicated world of electronic music.
ART, SEEN: VIRTUAL EXPERIENCES OF ART, MUSIC, AND DESIGN | 3:00 PM - 5:00 PM | THE ART DEPARTMENT | 611 CONGRESS STREET
Sit down, put on some headphones, and strap on the headgear, this is Congress St like you've experienced it. Immerse yourself in the crowd during Dyke March, move through an installation at SPACE Gallery, watch soundcheck at Port City Music Hall, see artists work in Pickwick Press... Virtual reality is here!
Presented by the Yarn Corporation, in collaboration with MECA and Knack Factory.
CRINGE! | 4:15 PM - 5:15 PM | ETAIN | 646 CONGRESS STREET
We all have an insufferable piece of writing or a painfully awkward diary entry hiding in an attic somewhere. But what if we shared them publicly? It would be flat-out hysterical.
Diaries, letters, artwork, songs, it's all fair game. This will be a raucous hour of storytelling, performance art and more.
MTV CRITS! | 5:30 - 6:30 PM | ETAIN | 646 CONGRESS STREET
Hosted by artist Jenna Crowder and writer Nadia Prupis, MTV CRITS! screens the most iconic, pervasive, controversial, and popular contemporary music videos to generate a critical discussion of music, art, film, and theory through a socio-feminist lens. We screen a handful of videos per episode, inviting a lively, collaborative discussion of how we perceive and respond to music videos and consider their relevance in the broader shifting technological scene. Previous themes have included Portrayals of Women's Sexuality in Pop, Representation & Appropriation, Gender, and spotlight episodes on Beyoncé and Aaliyah.
NO CHILL COMEDY | 5:30 PM - 7:00 PM | EMPIRE | 575 CONGRESS STREET
McQueen Adams - Fresh off a tour with Funny or Die and creator of the new Comedy Central Snapchat series "Heads Will Roll" McQueen Adams has taken his world of impressions, music, and comedy in a fresh and innovative direction, creating a hi-tech audio- visual universe. His new show "SAN PEDRO" incorporates hisimprovisational skills with the music of groups such as Daft Punk and Coldplay, voices both real and fictional, including Gandalf, his Mom's Cat and Jason Statham, and plenty of original bizarre inhabitants. Adams is master of this mashup of songs,voices, and sketches that Radiohead's Thom Yorke has called "just brilliant".
Greg Barris is a staple in New York's downtown stand-up scene and is the creator of Heart Of Darkness: a psychedelic showcase of comedy, live music and fringe scientists that has been a frequent Time Out New York critic's pick, much loved by BrooklynVegan and hailed as 'Excellent' by The New Yorker. Comedians who have appeared on Heart of Darkness include Reggie Watts, Fred Armisen, Janeane Garofalo and Jim Gaffigan.
Hosted by Connor McGrath, Portland-based comedian recently voted Maine's Best Comedian by the readers of the Portland Phoenix.
IN CONVERSATION | 6:15 PM - 8:00 PM | PORTLAND FLEA-FOR-ALL | 585 CONGRESS STREET
No moderator. No agenda. No holds barred. Two minds. We orchestrate the collisions, and then sit back, listen, and learn.
6:15 PM Milo x Samuel James
Born in Chicago, raised in Saco, relocated to LA, Milwaukee, and now living back home in Maine, Milo is one of many nom-de-plumes of the singular rapper, producer, and multi-media artist Rory Ferreira. Biddeford native and Portland institution, Samuel James is a master guitarist, songwriter, storyteller, and writer, who's known the world over for his virtuosic musicianship and his rich and powerful story-craft.
7:00 PM Sammus x Dr. Leroy Rowe
Sammus is the moniker of rap artist, producer, activist, teacher, and Cornell PhD student Enongo Lumumba-Kasongo. While touring the country and garnering glowing press from NPR, Pitchfork, LA Times, and Vibe, Sammus has also managed a life as a public-school and college-level educator, and author, writing on race, hip-hop, gaming, and feminism for national publications. Raised in Jamaica and now residing in Portland, Dr. Leroy Rowe is a professor of African-American History and Politics at the University of Southern Maine. Dr. Rowe also co-directs the Gloria S. Duclos Convocation program, an annual public event series, this year around the theme of 'Race and Participatory Democracy.'